I thought I'd write a little bit about fabric types, and the type of fabrics I sew with.  There are two main types of fabric - woven and knit.  The easiest way to distinguish between the two (though not fool proof) is stretchy or not stretchy!  I think it's fairly obvious that I am most comfortable with woven fabrics, so let's talk about that first!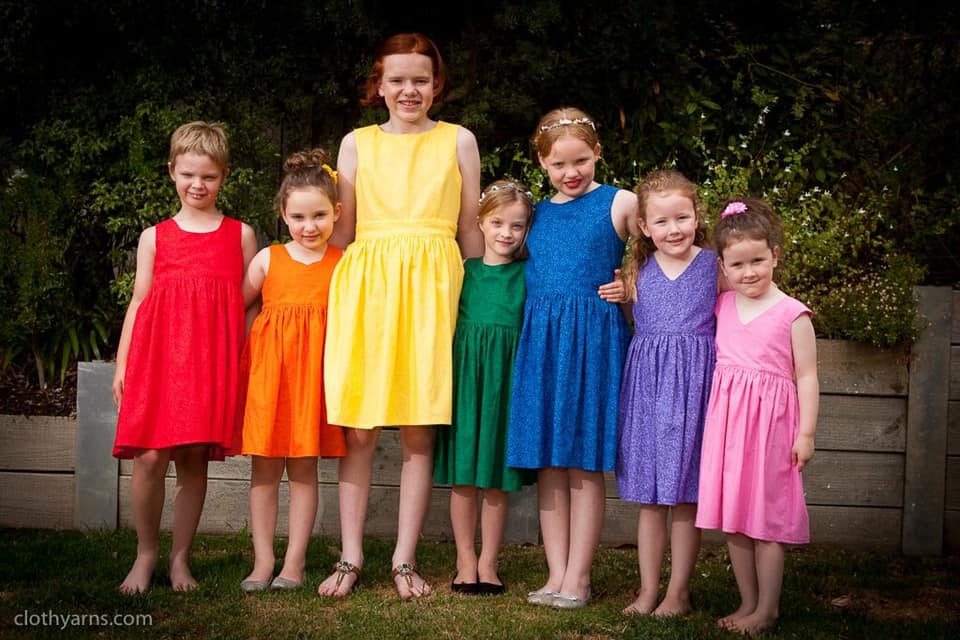 Most of the items I offer for sale are made from woven cotton.  I use three weights of cotton woven - cotton poplin, which is a light weight, thinner cotton which I occasionally use for shirts or summer dresses; quilting cotton, which has a nice dense weave and a heavier weight than cotton poplin and is my most used fabric; and cotton drill, which is a heavy weight and sturdy twill weave (if you look closely at the fabric, it has diagonal lines in the weave), which is what I usually use for shorts.  I love working with cotton, it's a natural fabric which is great for my daughter's sensitive skin, it holds its shape nicely and it is usually colour fast.  The down side of course is the never-ending ironing, that it can shrink if accidentally tumble dried on hot, and that it frays.  Quilting cotton is usually pretty good for not fraying inside a garment, but I have had it happen where a shoulder seam in a poplin dress has started fraying after a couple of years of continuous wear, or the inside of a pocket gets pushed through with overuse!  I also usually manage to (mostly) avoid ironing by taking it from the machine as soon as it's finished, shaking the item out and hanging to dry on a coat hanger.  I would still need to iron it if it was being worn for photos, or an event, but for day to day wear, this is sufficient for us!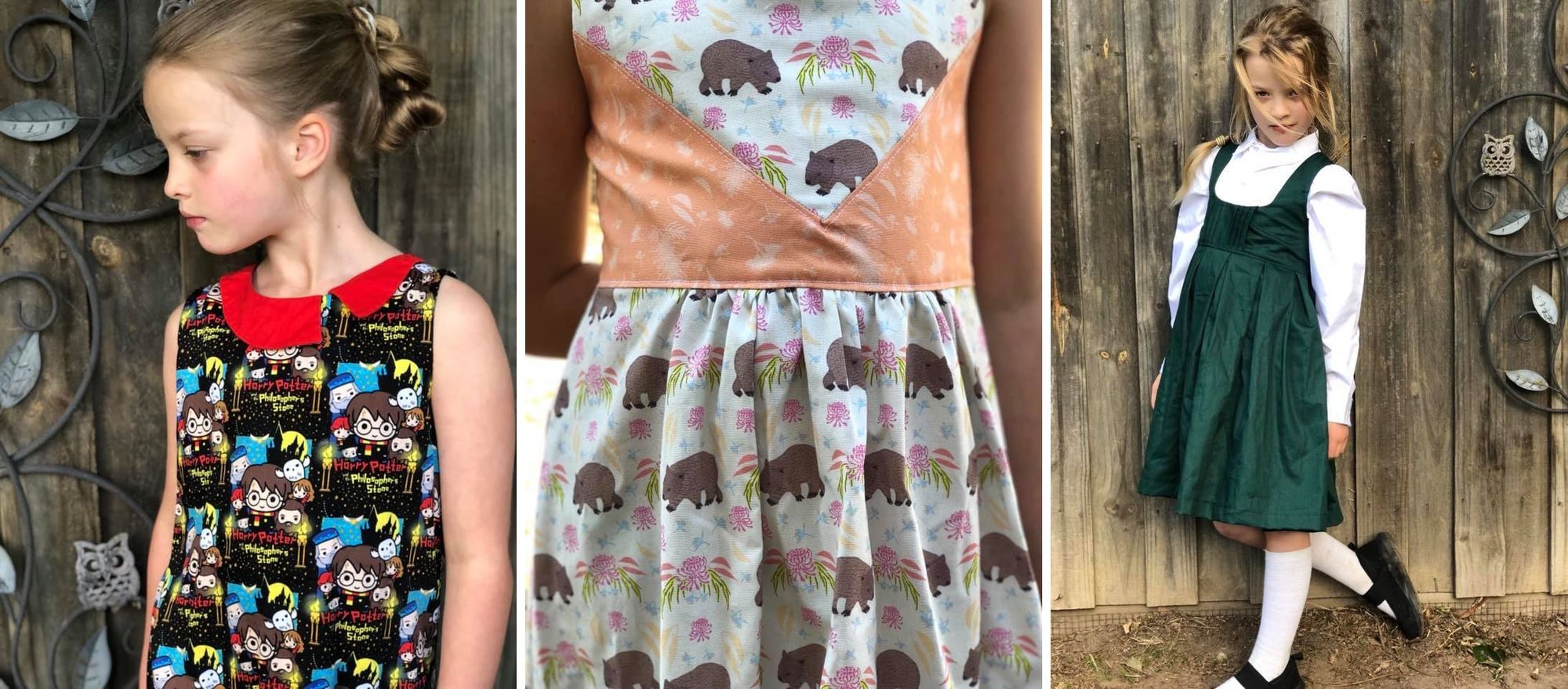 I also offer items in a linen-cotton blend.  The blend I use is 55% linen, 45% cotton, which gives a good balance between the structured look and feel of linen, without the level of crumpling (ironing!) than pure linen dictates.  It is a similar weight to the quilting cotton.  I love the linen-cotton blend fabric in the new shirts that we're releasing next year - no sneak peek of that yet, though, you'll have to admire the fabric in these shirt rompers instead!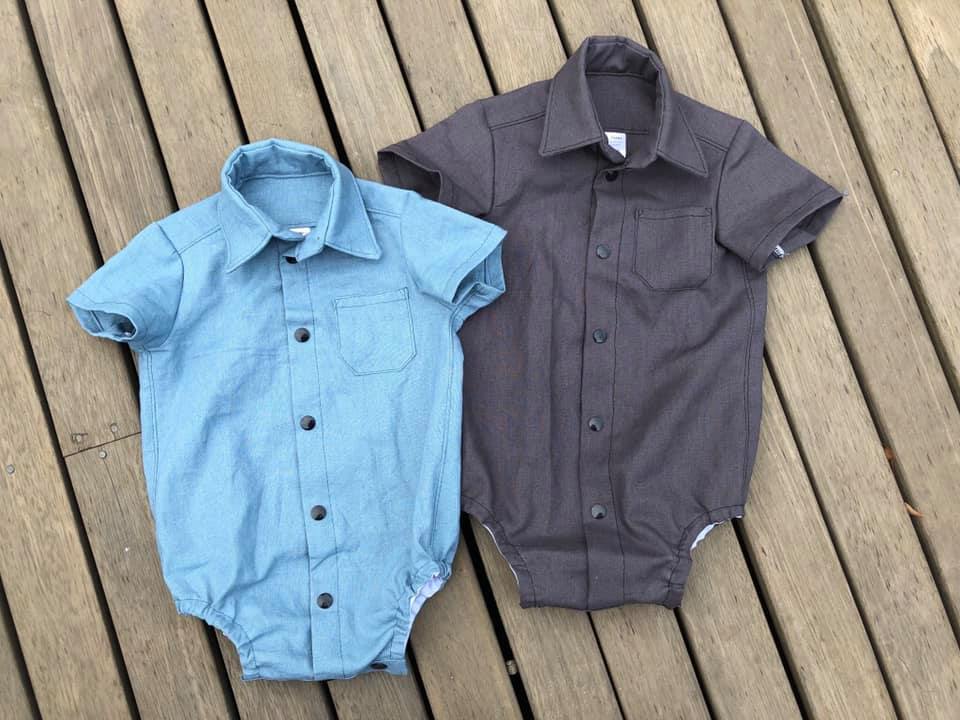 I also sew with rayon, which is a natural fibre, which is man-made - confusing right?! Unlike most man-made fabrics, rayon is not synthetic, it's made from wood pulp.  Rayon takes some careful handling - because it shrinks dreadfully you can't wash it on hot or tumble dry it.  It's also a much lighter weight fabric, which is what gives it that beautiful drape and flow, but this also means that it's easier to damage.  Miss 9 has been product-testing this rayon skirt for me, and it is love for her, but I'm not sure how other people will feel about it.  We'll be looking at offering some rayon items for sale next year.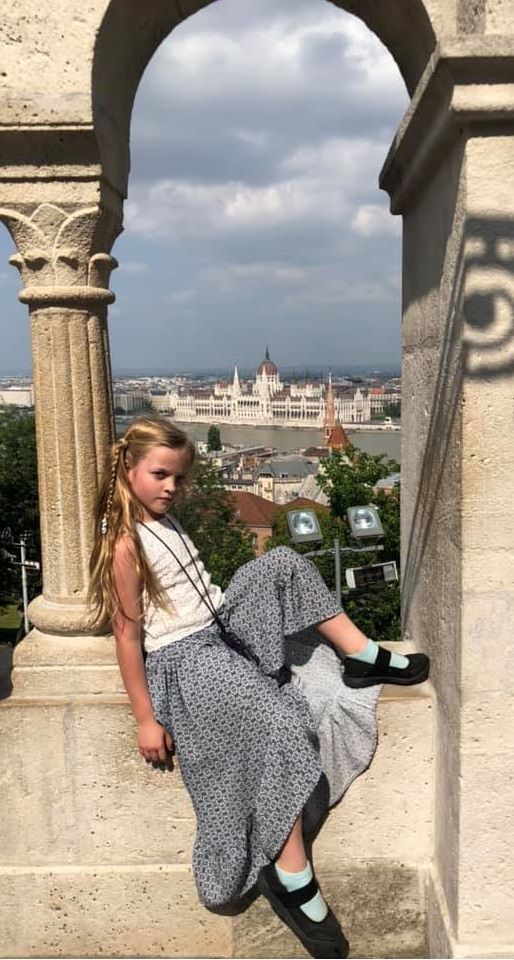 That's all I have to share for the moment - I'll do another post about knit fabrics soon!