This month I asked Miss 9 if she wanted to make a doll with me, to further her sewing skills.  I hadn't make a doll or stuffed toy in several years, so we looked at patterns and chose our designs.  On a whim, I asked my god-daughter, Miss 13, if she wanted to join us, and she said she would.  
Miss 9 chose a bunny, Miss 13 chose a fox, and I chose a deer.  I spent several days working out how much fabric we needed, then we went to Spotlight and picked out fabrics.  The actual fabrics for the dolls weren't very expensive, because you don't need much and you can buy it in 5cm increments after 20cm at Spotlight.  It was the needing to buy 5m of elastic, and 5m of bias tape, and a new hot glue gun, and a bag of poly-fill, and flowers for accessories that bumped the pricing up!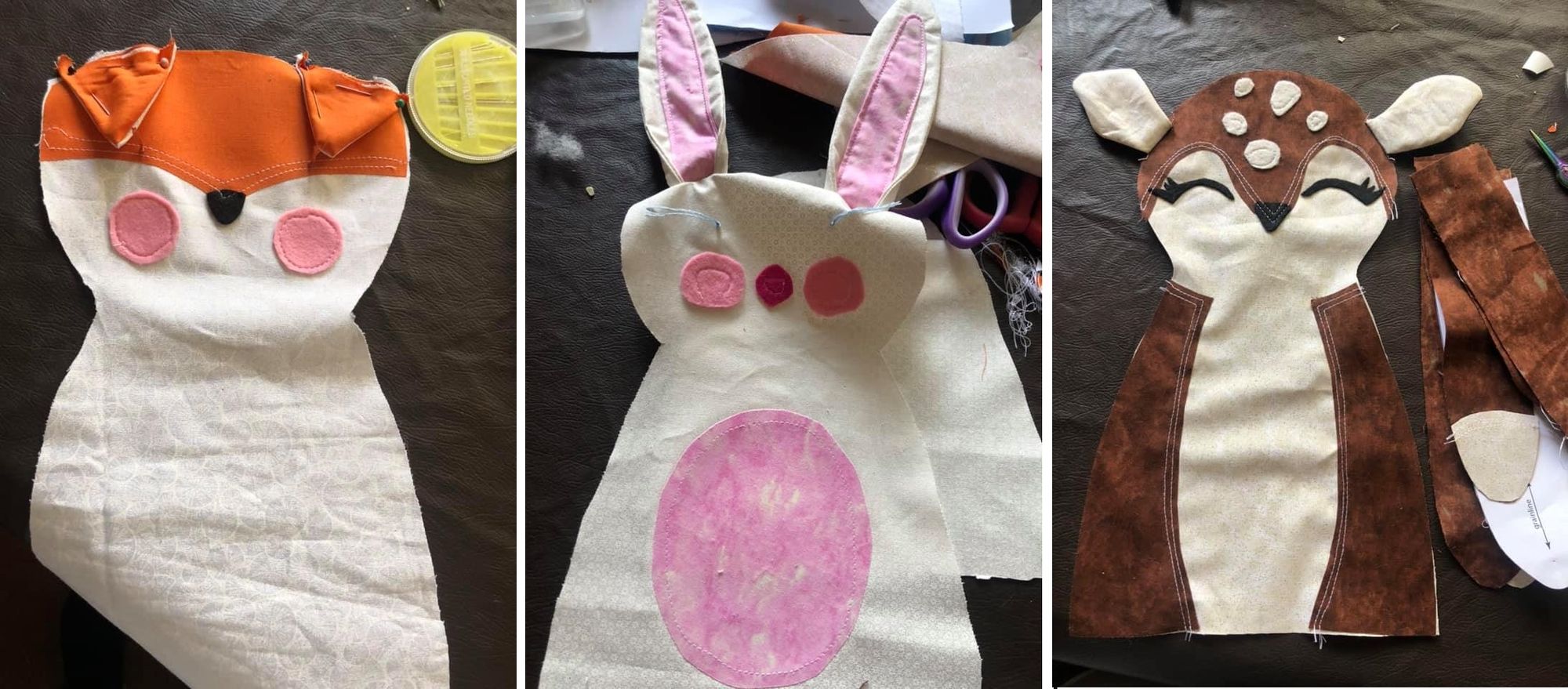 The following Tuesday after school, we cut out our pattern and pieces.  The girls didn't need my help with this, other than the instruction about what cutting "mirrored" pieces meant, and the occasional reminder to cut two or four.  I had ironed on the interfacing before we started, which helped with timing.  It turned out that I was minding Miss 13's brother that afternoon as well, so we didn't get as much done as we might have done, because we stopped after an hour or two when Uncle D arrived to pick up Mr 10 and Miss 13.

The Thursday we started sewing.  I had ironed the interfacing pieces in place, so the first step was sewing them all down.  We shared a single sewing machine between us, and again, after a demonstration, the girls did their own without my help.  Miss 13 is a St John cadet, so had to be home in time for dinner and meeting, so we only did a couple of hours.  Miss 13 got her overlays sewed on, and her fox face made, and her limbs pinned to sew.  Miss 9 got her overlays sewed on, her bunny face made, and her limbs sewn.  I got a bit enthusiastic, and made a fox out of the scraps as well!  Miss 9 and I stuffed our limbs after Miss 13 had been dropped home.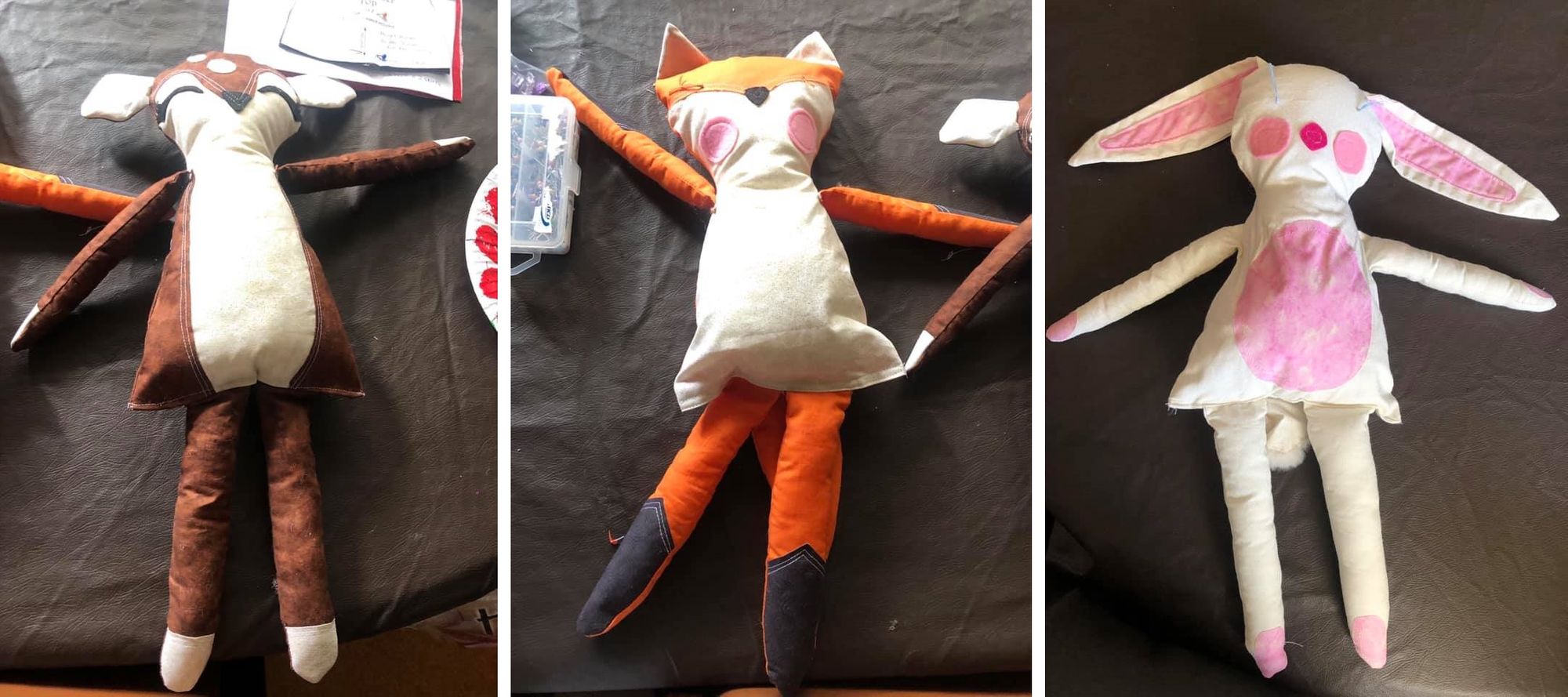 Miss 13 wasn't able to come to our third sewing session, so Miss 9 and I finished up sewing the bodies and the clothes in a couple of hours after her piano lesson.  We then had Miss 13 over another day, and she finished her fox.  The last sewing session for Miss 13 took a little longer than Miss 9's, because she had a little more to do, and her skirt was more complicated.  It was fun sewing with the girls, and I think they both enjoyed it!  Total cost for the project was about $100, but I have lots of stuffing, elastic and bias tape left over for future projects.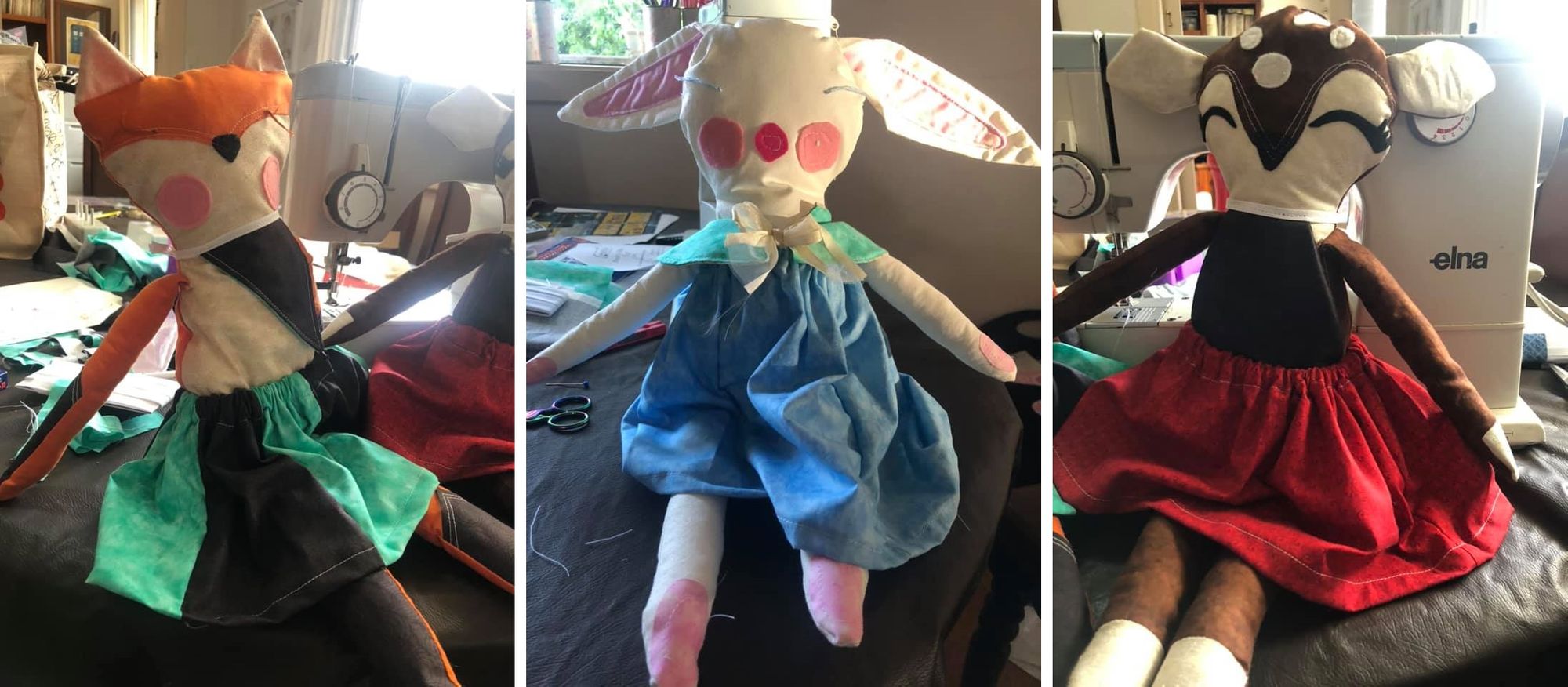 Miss 9 says: That was great, I loved it. I did actually find it a bit challenging for some parts but it was fun and I liked the dolly that I made.
She also thinks my deer and fox should swap skirts, so that happened too!